OS 2 in 1 - Old King Cole (Charcoal)
Regular price
$22.00 USD
Sale price
$18.00 USD
Unit price
per
Sale
Sold out
Our One Size (OS) 2-in-1 cloth diaper is one of the most versatile diapering systems available and has been named by our customers as "one of the most caregiver friendly diapers!" Trim, absorbent, and easy to use, you'll fall in love with our award-winning and best-selling diaper! Simply use, wash, and reuse again and again until your baby is ready to potty train; then, switch to our Lalabye Baby cloth trainers!
Each diaper fits from 8 to 35 lbs +/- , which means it will fit easily from birth until potty training! Our One Size diaper features waist and hip snaps that secure to our signature rainbow belly band, providing you with the best fit, every time. The rainbow belly band helps to color code the baby's size settings, which makes it easy to remember and easy to communicate to all of the baby's caregivers. 
Details

• Includes 2 bamboo inserts: a small and a large

• Stay dry interior keeps baby feeling comfortable and dry

• Water-resistant exterior keeps messes contained and baby's clothes dry

• Wide slot openings on both ends of the diaper make it easy to stuff the inserts into the stay dry pocket and allows inserts to agitate out in the wash on their own

• Interior snaps at the front and back of the diaper give you the option to snap inserts on top for fast absorption (great for kids who flood) or to use as an all-in-two

• Signature rainbow waist snaps color code baby's fit settings for quick and easy diaper changes and make it easy to remember and share with all of your baby's caregivers for a great fit every time

• Softly bound leg and back elastics are great for babies with sensitive skin and provide a comfortable, gentle fit while keeping messes contained

• Interior snaps at the front and back of the interior to accommodate our snap-in Bamboo or Stay Dry Bamboo inserts (sold separately)

• Water-resistant belly band prevents leaks at the tummy; perfect for tummy sleepers and keeps the umbilical cord area dry for newborns

• Durable snap closures at the waist and hips keep diapers on active babies and toddlers

• Hip snaps (in addition to the waist snaps) allow you to adjust the fit to accommodate various shapes and sizes as the baby grows, like tiny waists, chunky thighs, big baby bellies, and narrow skinny legs, etc.

• Crossover snaps on the tab allow you to snap the waist size extra small for newborn babies or to secure a wrapped up dirty diaper when on the go
How It Fits

Fits from birth to potty training: rise snaps adjust the length of the diaper to fit extra small (newborn), small, medium, and large sizes

(approximately +/-  8 to 35 pounds).
Wash & Care

Wash on warm. Hang dry exterior shell on a drying rack/clothes line or machine dry on low or air dry setting. Inserts can be tumble dried on medium. Hang in the sunshine to dry to easily remove stains!

Find more wash and care tips here.
Materials

Exterior: soft, stretchy, stain and water-resistant TPU (thermoplastic polyurethane- a.k.a. heat-pressed laminated polyester) provides a comfy custom fit

Interior: soft, light, stay-dry micro-suede keeps your baby feeling dry and comfortable

Inserts: soft, super thirsty bamboo inserts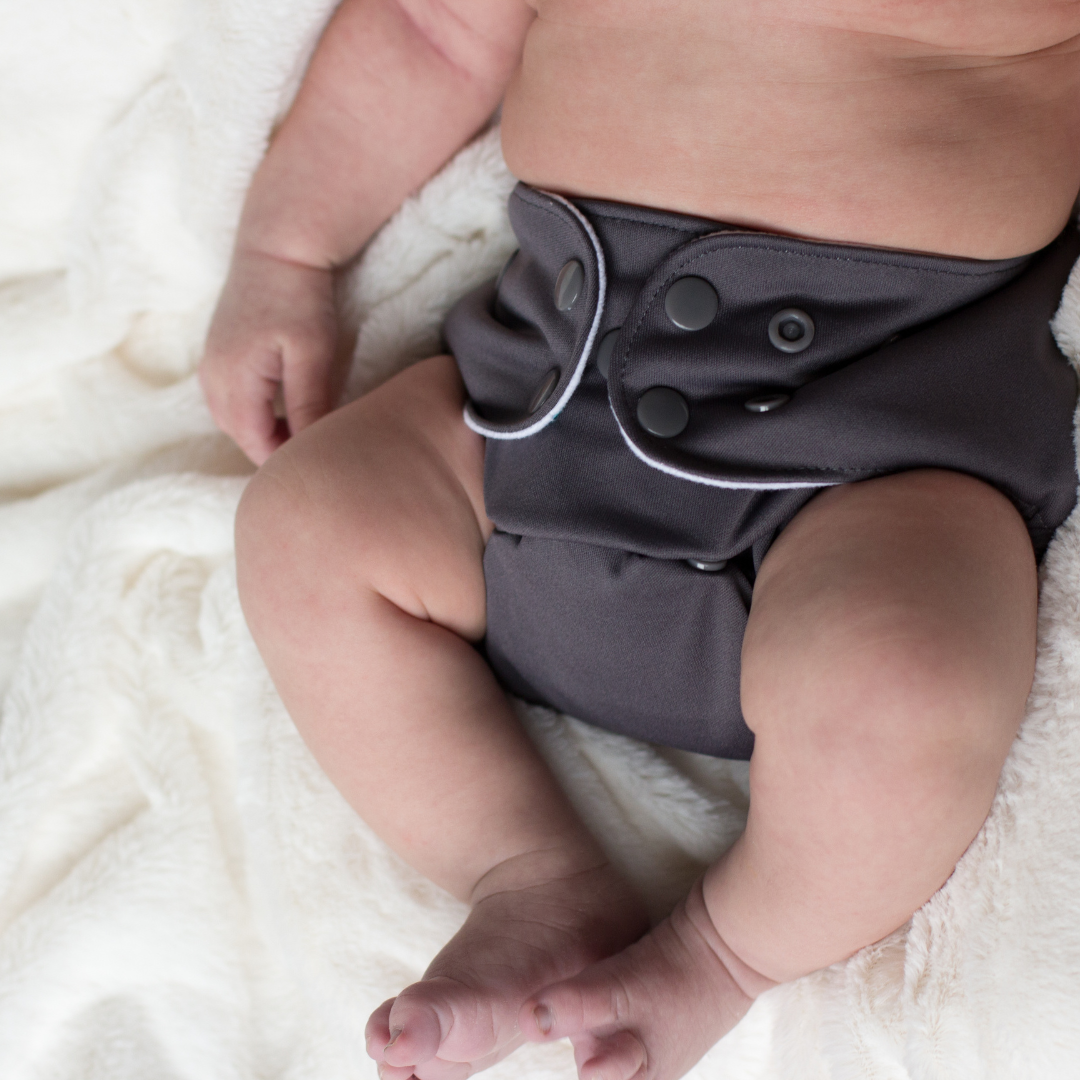 What is a one size Lalabye cloth diaper?
One Size 2-in-1 Diaper FAQs
What do "pocket", "OS/one size", and "2-in-1" mean?

A pocket cloth diaper is one you can stuff the inserts inside. Our One Size (2-in-1) is a pocket diaper.

OS/One Size means the diaper will adjust to fit from newborn to toddler; you don't have to buy additional diapers for each size.

2-in-1 means that our One Size (2-in-1) cloth diaper can be used two ways: you can 1. stuff the inserts into the pocket or 2. snap the inserts on top. This gives you options to switch things up throughout your cloth diapering journey and add absorbency how and where your baby needs it.
How do you use the inserts with the diaper?

You can use the inserts independently or together depending on your child's absorbency needs. The inserts can be stuffed into the stay-dry pocket of the diaper shell for a stay-dry feel, or you can snap it on top using the snaps at the front and back of the diaper to provide fast-absorbing action for toddlers who flood. The bamboo inserts can be used in multiple ways to adjust the absorbency to be where your child needs it most, too. Plus, since our 2-in-1 cloth diaper can be used as a pocket diaper, you can also add additional inserts (like a Lalabye Baby hemp insert) as needed to boost absorbency!

Learn more about adding additional absorbency here.
How much absorbency will I get?

See our easy to read absorbency chart here.

1 small Lalabye Baby Bamboo insert gives you approximately 4 oz of absorbency

1 small + 1 large Lalabye Baby Bamboo inserts together gives you approximately 12 oz of absorbency

You can also get different absorbency in areas by folding the inserts where you need more.

As well, you can add an insert like our Hemp Insert to gain another 14 oz.
How to change a one size cloth diaper: